Welcome to the Underwood, Iowa Website
PLEASE BE AWARE OF THE FOLLOWING TO PROTECT OUR SEWERS
DO'S & DON'TS FOR A TROUBLE-FREE SEWER       

Flushing your trash can lead to service interruptions and expensive repairs to home and municipal plumbing lines. When a clog or break down occurs, untreated sewage can back up into your home, your neighborhood or our waterways.
Following the suggestions listed may save residents money and avoid significant inconvenience, as well as the cost to the resident or                       community for clearing and repairing blockages.
DO'S
Place a wastebasket in the bathroom to dispose of solid wastes. Disposable diapers and personal hygiene products to not belong in the sewer system.
Avoid the release of hair into the shower, bathtub or sink drains to prevent clogs in traps and drains.
Place liquid fats, oils and grease into a jar or container and dispose in the trash. Wipe down greasy pots and pans with a paper towel before washing in the sink or dishwasher.
Use a strainer over the drain in your sink, tub and shower. Then empty the collected material into the garbage.
Keep your clean outs exposed so that your pipes can be inspected and maintained.
DON'TS
Flush so-called "flushable" wipes. They do not break down and can cause blockages in pipes and pump stations.
Flush kitty litter, diapers, soiled rags, sanitary napkins, dental floss, q-tips, razor blades, paper towels, surgical bandages, syringes, pharmaceutical products, cigarette butts.
Pour fats, oils and greases from cooking down the drain.
Pour paint, engine oil, pesticides, or chemicals down the sink. Some hazardous materials can corrode the sewer, while other complicate the treatment process. In fact, dumping them in the sewer is illegal and could subject you to a fine.
Pour sour milk down the sink. One liter of full cream milk has enough fat in it to cover the surface of an olympic sized swimming pool.
Spring Clean Up Day – Saturday, April 18, 2020.
Please have all items outside by the curb before midnight on Friday, April 17, 2020.
Payments need to be made out to M&K Mills for any big items/appliances and brought to City Hall by Wednesday, April 15, 2020.
If you have any questions, please call City Hall at 712-566-2373.
City of Underwood City Hall Closed to Public
COVID-19 PUBLIC SERVICE ANNOUNCEMENT FOR UNDERWOOD, IA
In accordance with directives and recommendations from Governor Reynolds, the Iowa Department of Public Health, and the Center for Disease Control, Underwood City Hall, located at 241 3rd Street, will be closed to the public.
We are still operating by phone at 712-566-2373, by email at underwood@walnutel.net, and through the drop box for payments and forms.
We will update the website at underwoodia.com as we know more information. Changes and updates are fluid currently.
Concerning the parks in town, we are asking citizens to be cautious during this time. We understand that it is very hard on children and they still need some outside play/breaks from being inside. Please use your best judgment when utilizing the park as the park staff is unable to clean/sterilize park equipment at this time.
Please call if anyone has any questions or concerns and we will do our best to help during this difficult time.
Thank you for your cooperation and your patience.
Updated information from Pottawattamie County Health Department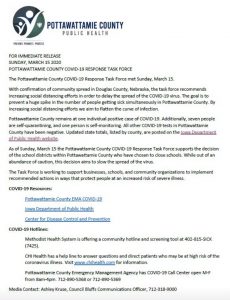 Effective 3/19/2020 – In Consultation with Gina Pearson, Can Kennel, sponsored by JOI is Closed
Per Ordinance No. 213 Section 106.08
106.08.01 Fee for Collection. The fee for solid waste collection and disposal service, used or available, is $12.50 per month.
106.08.02 Fee for Extra Container: Should a household require/request an extra container, there will be an additional fee of $6.00 per month.
106.08.03 Fee to replace container that is destroyed or removed from property: The fee to replace a container destroyed or removed from a property is $95.00.
CITIZENS MAKE NOTE: Any extra waste outside or around the container will not be picked up unless the Extra Container Fee has been paid beforehand so please plan accordingly.  Both cans must be MTS cans.
Western Iowa Development Association (WIDA)
Underwood and Pottawattamie County Residents:
Interested in getting the all-new, free, county-wide rural newsletter?
Email EricaForWIDA@gmail.com to be on the e-list and
Find the up-to-date Calendar of Events at www.WIDAIowa.org
Animal Control HOTLINE #(712) 366-1143
Dog licenses need to be renewed by March 1, 2020 or a penalty of $10.00 will be assessed. Please stop in or call City Hall at 712-566-2373 for any questions.
Dog License Renewal Letter 2020
Zoning Ordinances
City Council
What's Happening in Underwood:
Recycling Calendar January-June 2020
Recycling Calendar July-December 2020