Welcome to the Underwood, Iowa Website
Jack Links Donation to Underwood Volunteer Fire Department 
Zach Sangster, Vice-President of Supply Chain, and Pam Danker, both of Jack Links, Inc. presented a check to Jim Pingel, Fire Chief, on Tuesday, April 24.  The check was a generous donation to the Volunteer Fire Department to help purchase equipment.  Jack Links fundraising efforts are truly appreciated!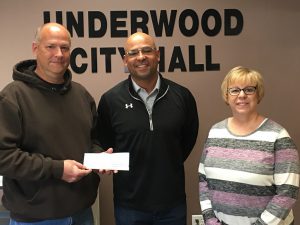 From left to right:  Jim Pingel – Underwood Fire Chief/Council Member, Zach Sangster, Pam Danker
Western Iowa Development Association (WIDA) Survey
Underwood residents:  You could win a $50 gift card to the Underwood Truck Stop for completing this survey, compiled by WIDA.  Please fill out this survey about Underwood!  We know you are busy and surveys take a few minutes, but we need your input!
*Survey can be completed on paper or go to www.WIDAIowa.org and click on the Underwood tab to get to the link and take it online instead.  Please complete the survey by 5/30/19.
Click on the link for the paper copy:  WIDA City of Underwood Survey
Underwood Lutheran Church Family Movie Night
Friday, June 21-A Dog's Way Home / Friday, July 12-The Greatest Showman / Friday, August 9-Breakthrough
Click on the link:   2019 Family Movie Night Flyer
Avenue of Flags Subscription – Junior Optimists – 2019
Please click on the link for the subscription sign-up for the High School J.O.I. Club for Flags for the following national holidays:  Memorial Day, Flag Day, Independence Day, Labor Day, Patriot Day and Veteran's Day.
Spring 2019 Junior Optimist Flag Subscription
Monday Markets begin Monday, June 24 
Friends of Underwood have themes for each Monday Market – check out the calendar on the website.
Dog License Renewals 2019 Information – DUE DATE WAS 3/1/19
Dog License Renewal Letters have been mailed out to licensed owners. If you know of someone who has a new dog to them, please notify them to contact City Hall. We have begun issuing dog licenses.  Late fees effective 4/1/19.
City of Underwood 2019 Photography Contest
Do you have some amazing photos of our area?  Would you like to see them featured in the 2019 City of Underwood website?
Here's the scoop:  We are looking for unique color photographs that represent the beauty and wonder of life in our beautiful town.  Photos must have been taken inside Underwood addresses.
 This contest is open to all citizens who have an Underwood address or go to school at Underwood Community Schools.  There will be 3 age categories:  6-12, 13-18, 19+.
Submissions must be RECEIVED in our office by Monday, August 5, no later than 2:00 p.m.   
Entry Agreement/Photography Release (page 2) MUST be completed and signed and submitted with photos.
Zoning Ordinances
City Council

What's Happening in Underwood:
Recycling Calendar January through June 2019
Recycling Calendar July through December 2019