Welcome to the Underwood, Iowa Website
Fall Clean-up Day – Saturday, October 5, 2019
Please call City Hall at 712-566-2373 if you have items that need to picked up. Payments need to be made to M & K Mills by Thursday, October 3, 2019.
Women's Self Defense Class
Sanders ATA will host a class on Saturday, October 12, 2019 from 9-10 AM at City Hall. Please call City Hall at 712-566-2373 to register.
Animal Control HOTLINE –#(712) 366-1143
Construction begins Monday, July 29 on Railroad Hwy
STARTS – Monday, July 29, 2019 8:00am  — ENDS – Friday, September 27, 2019 5:00pm for 1.57 miles
Railroad Hwy (G8L) will be closed north of County Road L34 to Idlewood Road for bridge repair work and approach pavement construction on the two (2) Mosquito Creek Bridges. Detour will be from the Railroad Hwy (G8L) and Kanesville Avenue (Hwy 6) intersection, east to Interstate 80, north on Interstate 80 to Exit 17 at Underwood, west on Magnolia Road to Railroad Hwy (G8L). Traffic between the two bridge closures will take Hanie Avenue to 225th Street, then south on 225th Street to Hunt Avenue, then south on Hunt Avenue to Hwy 6, then west to Railroad Hwy (G8L).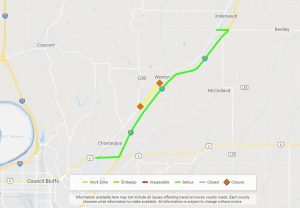 GARBAGE-REFUSE-TRASH PICK-UP
Per Ordinance No. 213 Section 106.08
106.08.01 Fee for Collection. The fee for solid waste collection and disposal service, used or available, is $12.50 per month.
106.08.02 Fee for Extra Container: Should a household require/request an extra container, there will be an additional fee of $6.00 per month.
106.08.03 Fee to replace container that is destroyed or removed from property: The fee to replace a container destroyed or removed from a property is $95.00.
CITIZENS MAKE NOTE: Any extra waste outside or around the container will not be picked up unless the Extra Container Fee has been paid beforehand so please plan accordingly.
Avenue of Flags Subscription – Junior Optimists – 2019
Please click on the link for the subscription sign-up for the High School J.O.I. Club for Flags for the following national holidays:  Memorial Day, Flag Day, Independence Day, Labor Day, Patriot Day and Veteran's Day.
Spring 2019 Junior Optimist Flag Subscription
Dog License Renewals 2019 Information – DUE DATE WAS 3/1/19
Dog License Renewal Letters have been mailed out to licensed owners. If you know of someone who has a new dog to them, please notify them to contact City Hall. We have begun issuing dog licenses.  Late fees effective 4/1/19.
Zoning Ordinances
City Council

What's Happening in Underwood:
Recycling Calendar January through June 2019
Recycling Calendar July through December 2019