Welcome to the Underwood, Iowa Website
Block Party on September 21st!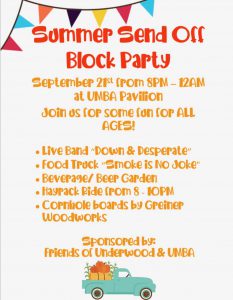 Fall Clean-up Day – Saturday, October 5, 2019
Please call City Hall at 712-566-2373 if you have items that need to picked up. Payments need to be made to M & K Mills by Thursday, October 3, 2019.
Women's Self Defense Class
Sanders ATA will host a class on Saturday, October 12, 2019 from 9-10 AM at City Hall. Please call City Hall at 712-566-2373 to register.
Animal Control HOTLINE –#(712) 366-1143
GARBAGE-REFUSE-TRASH PICK-UP
Per Ordinance No. 213 Section 106.08
106.08.01 Fee for Collection. The fee for solid waste collection and disposal service, used or available, is $12.50 per month.
106.08.02 Fee for Extra Container: Should a household require/request an extra container, there will be an additional fee of $6.00 per month.
106.08.03 Fee to replace container that is destroyed or removed from property: The fee to replace a container destroyed or removed from a property is $95.00.
CITIZENS MAKE NOTE: Any extra waste outside or around the container will not be picked up unless the Extra Container Fee has been paid beforehand so please plan accordingly.
Avenue of Flags Subscription – Junior Optimists – 2019
Please click on the link for the subscription sign-up for the High School J.O.I. Club for Flags for the following national holidays:  Memorial Day, Flag Day, Independence Day, Labor Day, Patriot Day and Veteran's Day.
Spring 2019 Junior Optimist Flag Subscription
Zoning Ordinances
City Council

What's Happening in Underwood:
Recycling Calendar January through June 2019
Recycling Calendar July through December 2019