Welcome to the Underwood, Iowa Website
Anim

al Control HOTLINE (712) 366-1143 — Regional Water Emergency

(712) 249-5427
WINTER COAT DRIVE 
Sponsored by National Alliance on Mental Illness-SW Iowa and Lookout Village
Deadline for Donations – December 22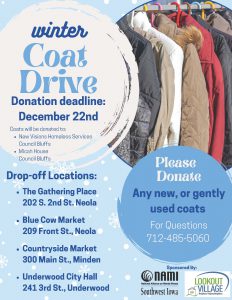 11/13/2023 — Iowa Finance Authority Sponsors Mortgage Help for Iowa Homeowners
Please click on the link for Iowa Finance Authority flyer for Mortgage Help Eligibility, Type of Assistance Available, and What is Needed to Do to Apply.
Or go to Iowa Finance Authority Website for More Information. https://www.iowafinance.com/ihaf/
UNDERWOOD OPTIMIST CLUB SPONSORING
CPR/AED TRAINING – SATURDAY, JANUARY 20, 2024
Please click on the link for the CPR/AED flyer.
CITY NEWSLETTER
Please click on the link for the November/December 2023 Newsletter.
FLASH FLYER – Online Payments Information 30OCT2023
Please click on the link for the October 2023 Newsletter.
Please click on the link for the September 2023 Newsletter.
Please click on the link for the August 2023 Newsletter.
Please click on the link for the July newsletter.
Please click on the link for the June 2023 Newsletter.
Please click on the link for the May 2023 Newsletter.
DOG LICENSES 2024
If you sign up at FrontDesk, you will be able to complete either a single dog application or multiple dog application (3 total dogs) online and have the ability to submit. You have the option to pay online or at city hall, once information is verified by city staff.
Listed below are the paper copies in a PDF format for Single Dog and Multiple Dog if you would prefer to print and complete.
2024 Single Dog License Application
2024 Multiple Dog License Application
Dog License Applications are due 2/29/24. Beginning 3/1/24 there will be a $10.00 penalty per dog.
POTTAWATTAMIE COUNTY WAS AWARDED $4.4 MI
LLION IN GRANT FUNDING AS PART OF THE INVESTING IN AMERICA AGENDA!
Thanks to Pottawattamie County Engineer, John Rasmussen, P.E., Pottawattamie County Engineer, Pottawattamie County Board of Supervisors, Pottawattamie County Secondary Roads Department staff, and others that the County worked with on this grant.
This adds a Center Left Turn Lane to G30 from Railroad Highway to I80 in Underwood, as well as replacing the Mosquito Creek Bridge.
Please click on the link below for more information.
https://www.pottcounty-ia.gov/departments/secondary_roads/
What's Happening in Underwood:
Recycling Calendar July to December 2023
First Half 2024 January to June Recycling
2024 Second Half July to December Recycling Calendar
Ordinance – Chapter 55 – Animal Protection and Control
Ordinance 55.07 Owner Duties.
Humane Treatment.  An owner or custodian shall provide sufficient food, water, shelter and humane treatment for any animal in such person's care.  It is unlawful under this chapter for an owner or any other person to beat, starve or otherwise abuse any animal.
2.  Sanitary Conditions.  An owner or custodian shall keep all structures, pens, or yards wherein dogs or cats are confined clean, devoid of vermin and free of odors arising from urine or feces.
3.  Public Sanitation.  No owner or custodian of a dog or other animal shall permit such animal to discharge feces upon any public or private property, other than the property of the owner or custodian of the animal.
When you are out walking with your dog(s), please pick up after them!  Thank you!
Per Ordinance No. 213 Section 106.08
106.08.01 Fee for Collection. The fee for solid waste collection and disposal service, used or available, is $12.50 per month.
106.08.02 Fee for Extra Container: Should a household require/request an extra container, there will be an additional fee of $6.00 per month.
106.08.03 Fee to replace container that is destroyed or removed from property: The fee to replace a container destroyed or removed from a property is $95.00.
CITIZENS MAKE NOTE: Any extra waste outside or around the container will not be picked up unless the Extra Container Fee has been paid beforehand so please plan accordingly.  Both cans must be MTS cans.
Zoning Ordinances
City Council